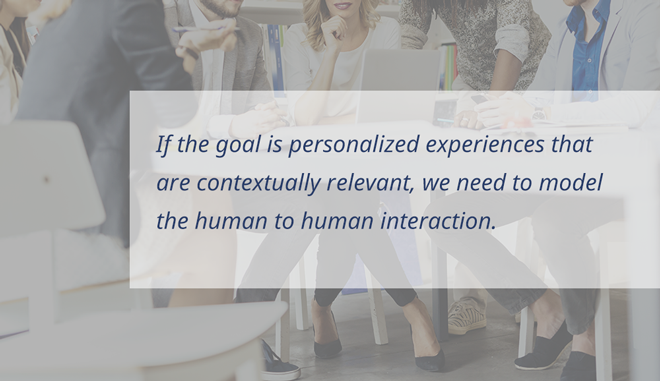 Recently our Sales & BD team were working on an opportunity for a Sporting Goods Client. This opportunity started as an RFP with ADAM and seven days later, we're sitting in Pittsburgh, PA demonstrating how ADAM software provides the functionality that they need but can't do themselves.
As partners, we're showing them how the ADAM technology can work together with their software and tell the story of how we envision delivering great customer experience to their clients. It's because of our great partnerships, like this one with ADAM, that makes us that much stronger at providing quality solutions for our customers.
 
In my meeting with our client, I discussed this scenario as an example of how we have to understand consumers in context. Consumers have very different pattern of behavior depending on if they are buying for their son or daughter. Hypothetically, the customer—let's call him Jason—buys lots of product for this retailer both in store and online. His son is relatively easy to buy for, minimal returns or exchanges. He's on three sports teams and is always in need of clothing or equipment. His daughter is another story, she is 14 and very challenging to buy for. As a teenage girl she is very particular about style and fit. He told me she returns or exchanges most of what he buys for her. These patterns of behavior would be recognized and addressed if he had a regular sales person he worked with in a store. They would make appropriate recommendations and would guide Jason through the purchase and potentially the return or exchange process.
 
We know if he is browsing women's jacket or men's sneakers, these should inform the experience and the offers that are delivered. We have great data science skills at Tahzoo that can be leveraged to understand customers in context. When we think about helping our clients drive personalization its important focus them on understanding their customers first rather than experimenting with A/B and multi-variant testing tools. If the goal is personalized experiences that are contextually relevant, we need to model the human to human interaction. Understanding someone first and providing appropriate responses second. Because of the availability of testing tools and how digital marketers are focused on creative and content it's easy to understand why A/B testing is a dominant paradigm. However, at Tahzoo we recognize that personalization begins with data and how we understand customers and patterns of behavior in context.