PROGRESSIVE PERSONALIZATION – THE KEY TO MAKING CX WORK
The verdict is in. Businesses understand that their most important competitive advantage is their ability to deliver superior and differentiated customer experiences. Not only does it reduce churn and increase customer loyalty and lifetime value, it directly impacts the business' stock valuation. According to Forrester Research, there's an 80+% delta in 5-year stock performance (2007-2013) between leaders in customer experience and laggards. The question is not should I, but how do I, implement a successful customer experience program.
The most powerful impact on customer experience comes in the form of reducing the effort it takes for the customer to engage with the brand and the ability of the brand to deliver contextually relevant content to the customer regardless of channel, device or platform. We call it Progressive Personalization. And it pays off for the business.
In a recent study by Harris Interactive, 86% of customers said they were willing to pay 25% more for a better customer experience.
PROGRESSIVE PERSONALIZATION TO DRIVE DESIRED OUTCOMES
Progressive personalization is the delivery of customer experiences that reflect personal preferences expressed in explicit (1st party), implicit (2nd party), and enriched (3rd party) customer data collected along the entire length of the customer journey and across the full breadth of an omnichannel environment.
It is the product of an inter-disciplinary approach, which combines data-science, responsive design, digital marketing, organizational readiness and marketing technology. Together they create a new discipline, responsive experience, which adapts interactions to the user's preferences, producing contextually relevant customer experiences, which reduces friction for the end customer and delivers measurable and repeatable outcomes, required by the business. What are those business outcomes? According to HubSpot, a personalized call-to-action results in a 42% increase in conversion rate. eConsultancy attributes a 19% sales bumps due to personalization and a major European retailer reported a 35% increase in conversion rate, a 700% increase in return visits, 340% increase in productivity and a 46% higher order value, upon rolling out a progressive personalization program on their web properties.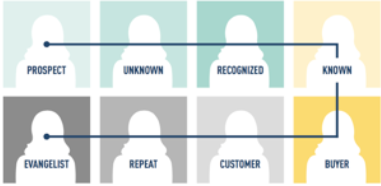 Table stakes for progressive personalization is being customer centric. It requires the business to look at its customers along their entire journey, from an unknown to a recognized and finally known prospect. But the relationship doesn't end at becoming a customer. It proceeds from simply being connected to becoming a loyal customer and hopefully elevating into an evangelist for the brand.
OUTSIDE-IN | STAGE ONE – CONFIRMING RELEVANCY
From a data standpoint this means starting with an outside-in approach to understanding your audiences. From a content perspective, the goal is to use the limited data available about an unknown prospect to confirm the relevancy of the initial experience. For example, a retailer may validate a prospect's geo-location based an on IP address iBeacon device and thereby recommend products on sale at their nearest store location the nearest store. Confirming Relevancy is the first stage of progressive personalization.
In responsive experience, implicit customer data is culled from a combination of an outside-in approach to audience understanding and an analytical approach to modeling existing customer data. This customer insight informs the design and build of a highly responsive and mobile optimized website which employs single point session triggers for elements like geo-location, time of day, etc., which is foundational or what is typically called Minimum Viable Personalization (MVP).
As the maturity of the website grows, it is possible to introduce enriched session triggers that map to both digital and offline personas and utilize social data to inform content and trigger rules in real-time. Integrating a sophisticated content management system with a rules engine will enable the delivery of this stage of personalization. It is also possible to combine the outside-in implicit 2nd party data with appended enriched 3rd party data.
STAGE TWO – OPTIMIZE CONVERSION
The second stage of progressive personalization is the Optimize Conversion phase. If the goal of the confirm relevancy stage is simply to engage in a conversation, then the goal of the optimize conversion phase is to get the prospect to convert. In a retail B2C environment, conversion may actually entail an immediate purchase, whereas in a B2B journey, conversion may simply be defined as completing a contact form on their website or registering for an event.
In the B2B2C world, where there is a specific delivery channel involved like an agent or dealer, conversion typically includes getting the prospect to register or engage directly with the brand, enabling the building of a long-term, direct brand relationship and simultaneously drive the known prospect, who has already cultivated a brand preference, to the channel partner as a pre-qualified lead that can be converted easily in the channel. Optimizing conversion requires first and foremost the programmatic reduction in customer effort. The experience has to be made as easy as possible, or frictionless. For example, a returning visitor who has expressed their preferences through their previous online session or engagement with bespoke content, like which model of vehicle they are interested in, should expect to have those preferences captured, saved and used to inform their next online visit without having to start from scratch. This is done through the integration of explicit data gained during the sum total of their previous interactions with the brand. At a base level, this may include previous web visits, but as the maturity of the personalization evolves, all interactions regardless of channel should be included in the process. It requires the integration of content management and customer data technology, combined with a robust decision engine.
STAGE THREE – LOYALTY AND LIFETIME VALUE
The final stage in progressive personalization is where the largest payoff to the brand is. It is the Loyalty and Lifetime Value stage. This is aimed at existing customers who have already chosen to do business with the brand. The goal here is twofold:
From a sales perspective, existing customers' lifetime value can be increased through repeat business, but also through cross-sell and up-sell opportunities. In the auto industry, for example, it's not enough to sell someone a car. The goal is to make them a lifetime customer, buying the same nameplate throughout their life. Additionally, in this scenario, there's opportunities to increase brand affinity to the sale of accessories as well as the opportunity to move the customer up the value chain over time, moving from the entry level to the flagship product.
There is also a marketing perspective. In this scenario, the goal is not only having a satisfied customer for life, but to encourage them to become an evangelist for the brand and by doing so act as a unique marketing channel, persuading their friends, family and network to consider purchasing products from their preferred brand. Brand evangelists are one of most cost effective sales and marketing channels and have the highest credibility and influence on others.
At this stage in progressive personalization, the customer has exchanged a steady stream of preference data, ranging from how and when they want to engage, to the type of content they find most relevant. The brand has been able to assign a persistent, unique ID identifier to the customer and now has the ability to recognize the customer regardless of channel.
In exchange for their preference data, the customer has an increasing expectation of the level of individualized experience they receive. It starts with recognition. More than the miles, an elite frequent flyer expects to be acknowledged and treated as a valued customer when they go online, arrive at the airport or a seat on the plane. This requirement must be met regardless of the industry and is especially important when the lifetime value is quite high, like in the example of a luxury automobile brand.
ENTERPRISE MARKETING PLATFORM
To effectively deliver a highly relevant and contextual experience, individualized based on explicit preferences, requires not only a sophisticated and robust data layer for compiling, curating and analyzing customer data in real time. It also requires complete integration with advertising channels like display ads, search and especially email.
In order to effectively and efficiently deliver the experience, technology is required. A personalization engine, Content Management System (CMS) and Customer Relationship Management (CRM) system.. Also needed is a dynamic marketing automation component as well as analytics systems that can measure engagement, performance and operations. In other words, it needs a complete enterprise marketing platform.

A TRUSTED PARTNER
There's an old saying among white water river guides, "There are ten ways to go down the river, but eight of them will get you killed." Over the years, and many, many deployments for Fortune 500 clients, Tahzoo has developed a proprietary methodology to implementing and managing progressive personalization. It involves multiple agile "sprints" that brings together professionals from multiple disciplines covering the audience, data, design, technology and organizational readiness. It always begins with understanding your current state, identifying the right metrics to measure success and establishing a baseline from which we can track progress.
Whether it's helping to define your audiences, personas and segments or evaluating your data and technology infrastructure, Tahzoo is committed to finding the right solution for where your brand is along its customer experience journey and where it wants to go. That's what being strategically led and data-driven mean to us.
Let's get started.